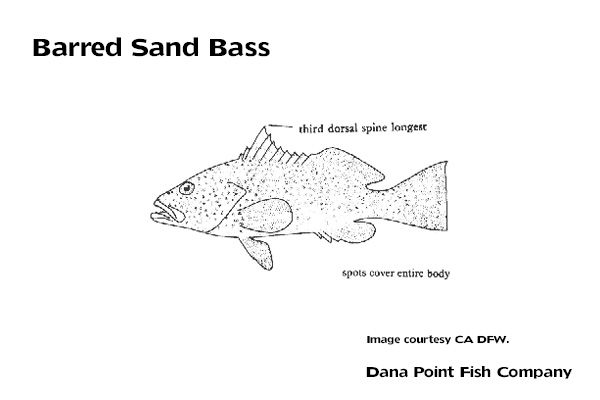 Genus/Species: Paralabras nebulifer. Other names: sand bass, sandy, kelp bass, California sand bass.
Identifying Characteristics and Biology
Greenish to gray with heavy dark bars. The smaller fish are typically more brightly colored.
Most sand bass have freckles on their snouts, and their mouths are large with a slightly protruding lower jaw.
The single distinguishing feature from the kelp bass is their longer third dorsal spine (the kelp bass's third, fourth, and fifth dorsal spines are about the same size). The spotted bay bass has the same feature, but the barred sand bass is distinguished by its lack of spots all over.
Max sizes: approx. 25 inches. Age: up to 24 years.
Range and Habitat
Barred sand bass range from Santa Cruz, CA to Magdalena Bay, Baja Calif. Most common from Santa Barbara on south.
While they are found in shallow sub-tidal areas on down to 600 feet, barred sand bass are most common from 10 to 120 feet deep.
Barred sand bass are typically found around near-shore areas in sandy-rocky areas.
Market Forms
A mainstay of Southern California sportfishing from May to October.
Resources:
Love, Milton. Probably More Than You Want to Know About the Fishes of the Pacific Coast. Santa Barbara: Really Big Press, 1996. Print.
"Marine Sportfish Identification: Sea Bass." Marine Sportfish Identification: Sea Bass. Dfg.ca.gov, 17 Oct. 2013. Web. 20 May 2014.