Bottarga is the salted and cured fish roe of either the grey mullet or bluefin tuna. The roe is removed, and then dried or cured in sea salt. Sometimes it is preserved by coating it in beeswax which is removed prior to eating.
Bottarga or botarga is also called butarga (Portuguese), avgotaraho (Greek), poutargue/boutargue (French), and similar to karasumi (Japanese) or wu yu zi (Chinese) which is salted mullet roe.
This preserved roe is considered a culinary specialty. Bottarga is often grated or thinly sliced and served with pasta or as an appetizer garnish.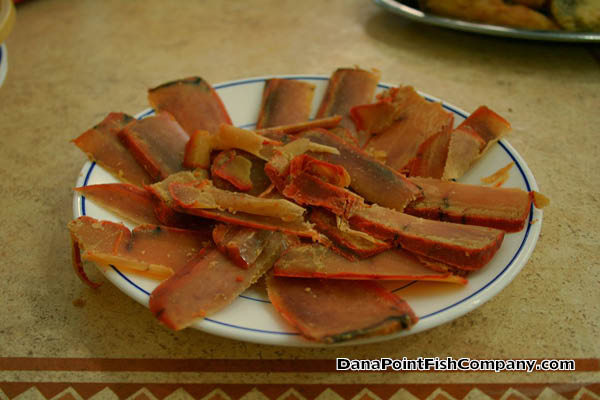 Here is a recipe to try for bottarga crostini.
Bottarga Crostini
2015-05-18 15:50:52
Ingredients
1 baguette, thinly sliced
Olive oil, for brushing
Bottarga, thinly sliced or grated
Instructions
Brush each slice with some olive oil.
Grill or broil the slices until of desired crispness.
Top each toast piece with a little of the bottarga, and serve.
Dana Point Fish Company http://www.danapointfishcompany.com/
Images Source:
"Penne alla bottarga 2" by Gaspar Torriero via a Creative Commons license.
Bottarga by Anna Maria Fish Company.
"Bottarga in vendita nel mercato di San Benedetto a Cagliari" by Freek Janssens via a Creative Commons license.