First thing in the morning is the time to fish for sardines. While sardines are a bait fish, they pull hard and are very aggressive. They feed on krill (planktonic crustaceans), zooplankton, and phytoplankton. When out on the water, look for birds, small splashes in the water, and bait marks on the depth finder. Sardines will hit the sabiki rigs.
Sardines – "hook up to plate up." Scroll down below for how to grill sardines, and recipes for using them.
---
Hook Up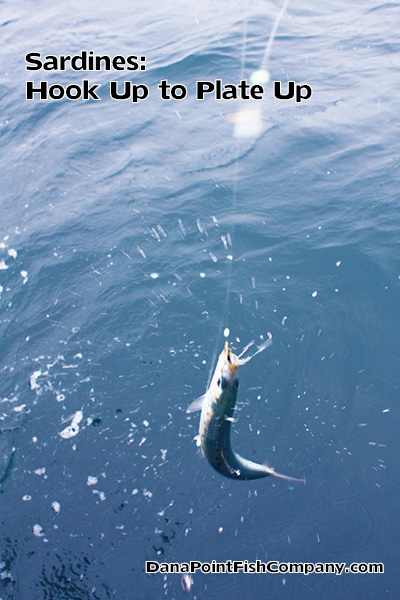 Sardines might be considered a small bait fish, but they aggressively attack artificial lures. Make sure the lures are of appropriate size.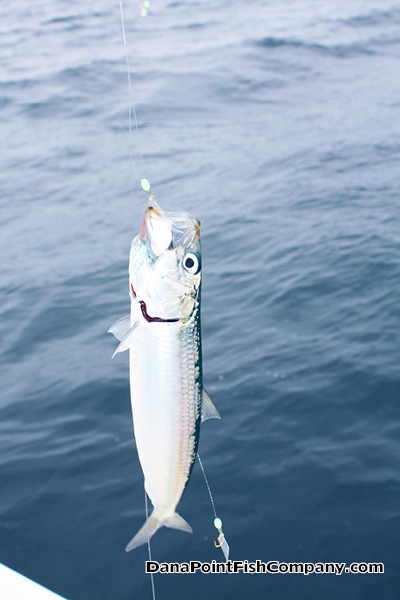 Sabiki rigs ('piscatore rig') is a tackle rigging consisting of small lures especially made for catching smaller fish. A basic set up from Wikipedia:
"A sabiki is typically fished off boats, piers, jetties, or any structure over the water. Sabikis consist of any number (usually between 6 and 10) of small hooks, each one on individual dropper lines which are a few inches long. The individual dropper lines are then tied to a longer leader in series, about 6 inches (15 cm) apart; a weight is tied to the end of the leader. The individual hooks are decorated as lures or tied like flies similar to those used in fly fishing. Often they have a simple piece of metallic or iridescent film attached to them. Traditionally, on any individual rig all of the lures will be either identical or in an alternating sequence of colors. The type or size sabiki used depends on water conditions, species of fish sought or simply the angler's preference."

Sardines have cylindrical and elongated bodies.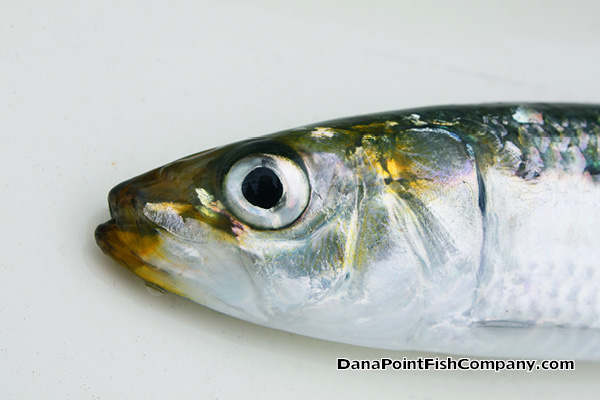 Their backs range in color from blue-green to olive green, to a tan color, and have a series of dark spots that go down the middle.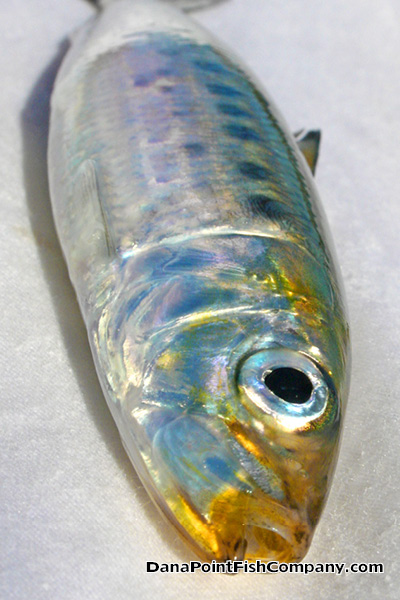 Look for tinges of gold on their tail fins, heads, and backs.
---
Plate Up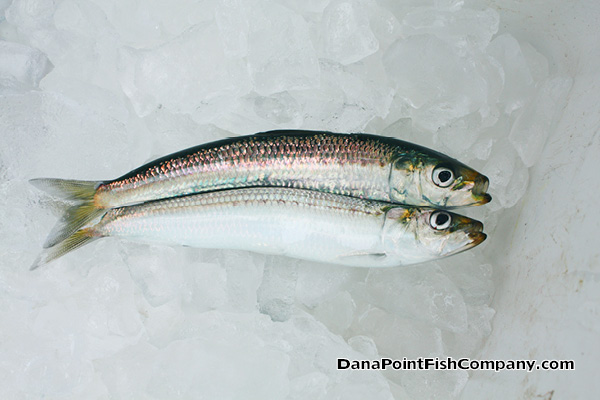 Keep the fresh caught sardines on ice until you are ready to prep them.
We like to leave the heads on. It makes prepping quicker and they are easier to debone once cooked. As the meat is flaky when they are cooked, the bones are released easily.
How to Prep a Fresh Sardine
Scale the sardine by scraping from tail to head, until all scales are removed. Rinse to remove any clinging scales.
Gut and gill the sardine, and rinse again. The heads may be left on or removed.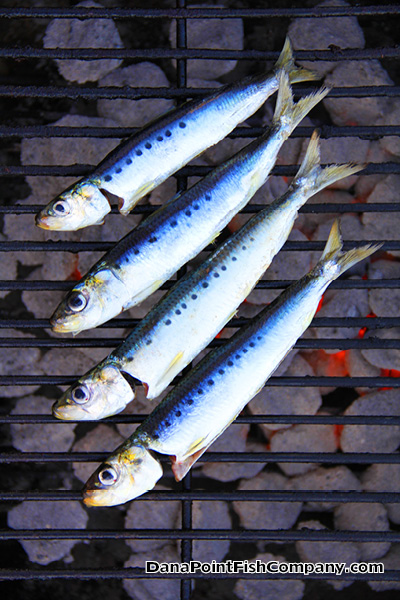 One of the easiest ways to cook a sardine is to grill them.
How to Grill Sardines
Oil a grill.
Rub a bit of oil on the sardine, and grill a few minutes on each side until the fish tests done.
Season, and serve.
---
Grilled Sardine Recipes
Try a couple of grilled sardine recipes.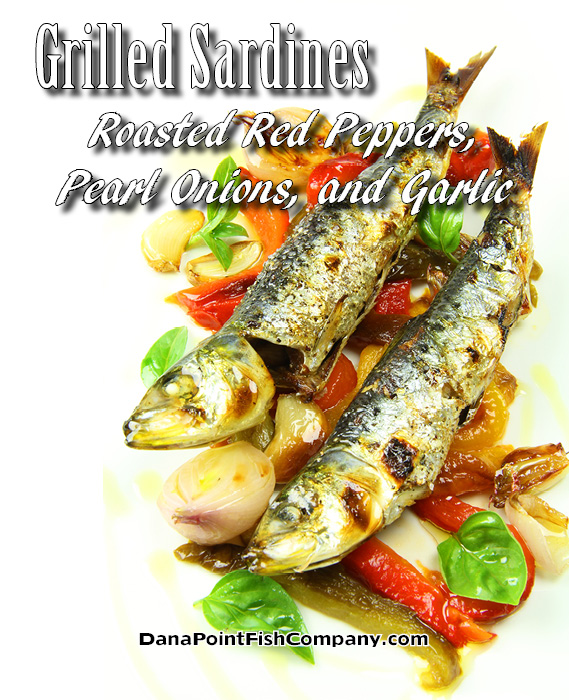 Grilled Sardines with Roasted Peppers and Pearl Onions
2015-02-26 16:28:58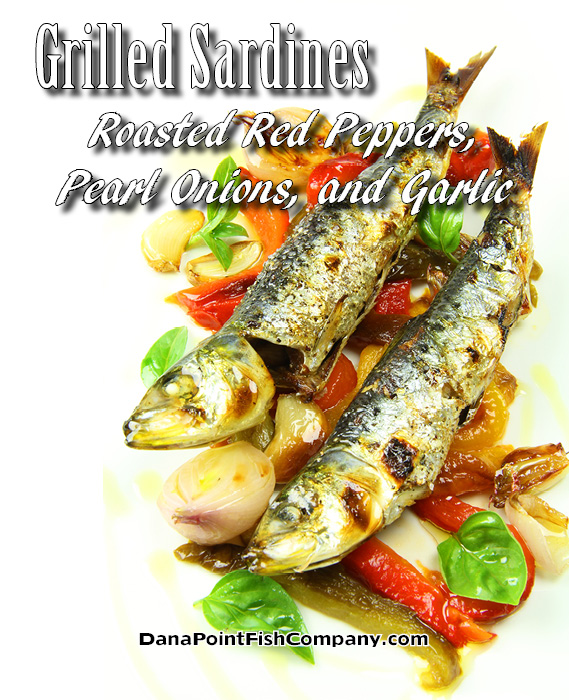 Ingredients
Fresh sardines - scaled and dressed
Roasted red peppers, seeded and skins removed
Grilled pearl onions
Roasted garlic
Fresh basil
Olive oil
Salt (sea and plain) and pepper
Instructions
Lightly oil the grill. Lightly brush or rub oil on the sardines. Grill until the fish tests done and meat flakes easily.
Toss some pearl onions with some oil, salt and pepper, and grill until softened.
Slice the roasted peppers into strips, and place in the center of the plate. Add grilled onions and cloves of roasted garlic.
Top with the grilled sardines, sprinkle with sea salt and cracked pepper, and drizzle with little olive oil. Serve.
Dana Point Fish Company http://www.danapointfishcompany.com/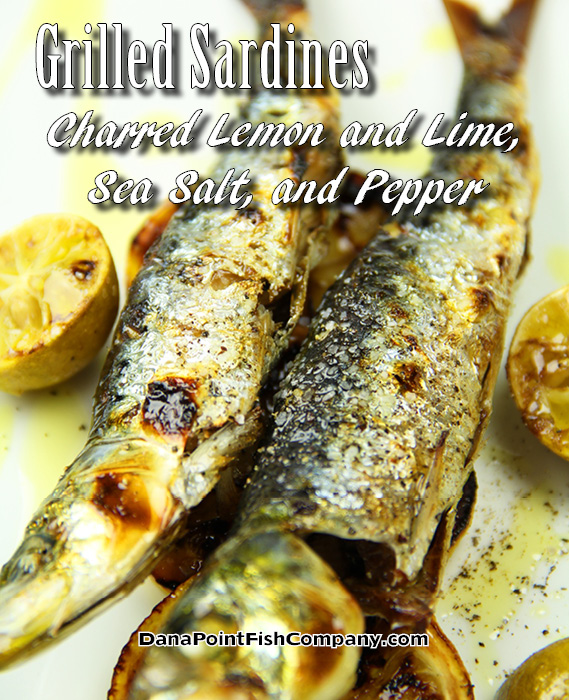 Grilled Sardines with Charred Lemon and Lime
2015-02-26 16:30:20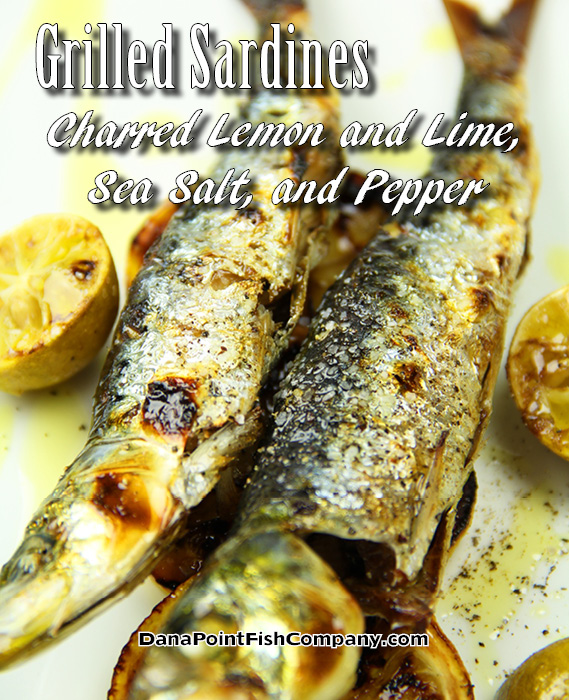 Ingredients
Fresh sardines - scaled and dressed
Olive oil
Lemon and limes, halved
Sea salt and course ground pepper
Instructions
Lightly oil the grill. Lightly brush or rub oil on the sardines. Grill until the fish tests done and meat flakes easily.
Rub the lemon and lime halves with a bit of oil. Lightly rub the grill with a bit of oil. Grill the citrus halves over the hottest part of the grill until they are charred. Remove to a platter.
Lay the sardines on a platter or serving plate. Squeeze the charred citrus over the tops, and place some on the plate around the sardines. Drizzle with a bit of oil, and sprinkle with salt and pepper. Serve.
Dana Point Fish Company http://www.danapointfishcompany.com/