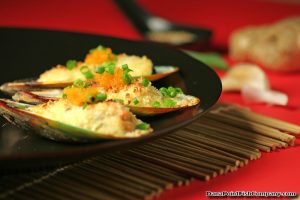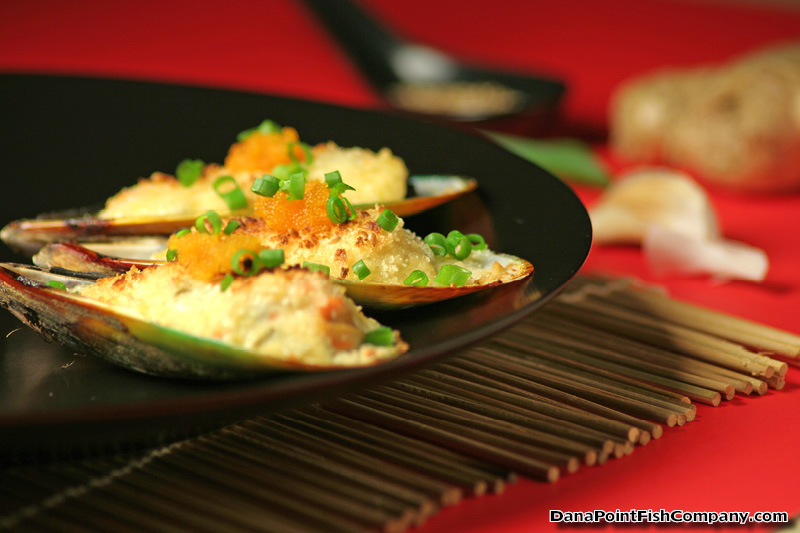 Japanese Baked Mussels
Ingredients
Ingredients
1 dozen mussels, cleaned if fresh, or thawed if frozen
Japanese Sauce Topping
3/4 cup mayonnaise
2 teaspoons sugar
1 1/2 teaspoons prepared wasabi
1 teaspoon minced fresh ginger
1 teaspoon soy sauce
1/2 teaspoon lemon zest, finely grated
1/4 teaspoon toasted sesame seed oil
Juice from half a lemon
Up to 2 tablespoons Panko crumbs
Baked Mussels Garnish
1 green onion, sliced fine (green and white parts)
Tobiko
Instructions
For the Mussels
If using fresh mussels, quickly sauté them in a hot pan with a bit of oil until they pop open. Remove them from the pan. Pull meat from the mussels and slice in three pieces and place back into a mussel half shell. If using pre-cooked frozen mussels, remove the meat from the shell, cut into three pieces, and place back into a mussel half shell. Arrange all the mussels in a baking pan that is broiler safe.
Mussels Topping
Combine the ginger, lemon zest, fresh lemon juice, wasabi, sugar, soy sauce, toasted sesame seed oil with the mayonnaise. Stir until smooth.
Spoon about a tablespoon over each mussel in a half shell, and sprinkle with a bit of Panko crumbs.
Place the baking pan under the broiler element and broil until the mussels are bubbly and lighly browned.
Remove from baking pan to a platter and top with green onions and tobiko.
Serve immediately.
Recipe by Dana Point Fish Company at http://www.danapointfishcompany.com/japanese-baked-mussels/