It doesn't get much simpler than this. Fresh squid is pan seared with tomatoes, Anaheim chilies and onions and served over baby greens. I use baby mesclun lettuce as the salad base, and a drizzle with a lemon vinaigrette completes the salad.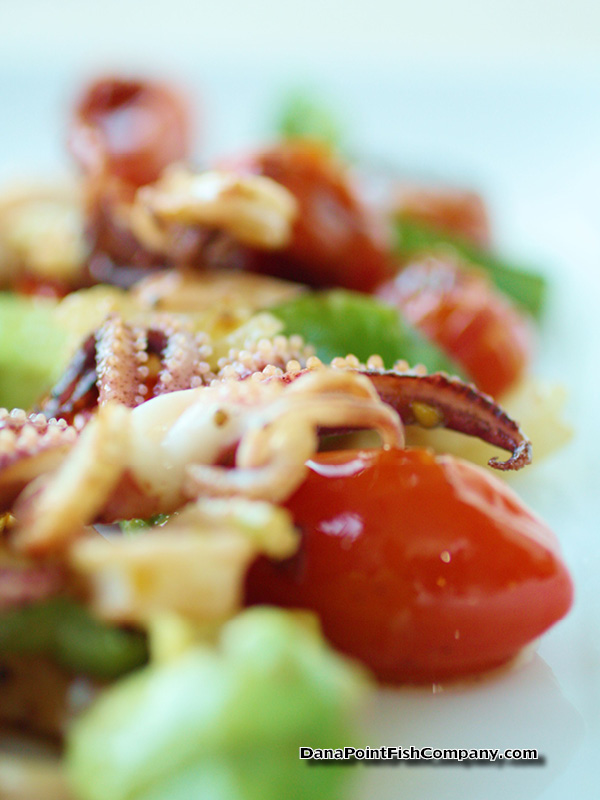 Pan Seared Calamari Salad with Avocado and Lemon Vinaigrette
Ingredients
8 cleaned squid - tubes thinly sliced and tentacles cleaned
1 Anaheim chile, sliced, seeds removed
1 dozen cherry tomatoes
1 medium yellow onion, sliced
1 ripe avocado, diced
1 tablespoon oil
Salt and black pepper to taste
8 ounces mesclun lettuce mix (baby lettuces)
Lemon Vinaigrette
1/2 cup olive oil
3 tablespoons lemon juice
1 teaspoon Dijon mustard
Salt and pepper
Instructions
Heat a large cast iron pan over high heat, until hot. While the pan is heating toss the calamari, sliced chiles, cherry tomatoes, and sliced onion with the vegetable oil. Season with salt and pepper.
Place the calamari and vegetable mixture in the pan. Sear until the ingredients have all browned and all the calamari pieces have tested done. This will only take a few minutes as the calamari will cook quickly over the high heat. Do not over cook them or they will end up tough and chewy.
Evenly divide the baby lettuce mix between four plates. Then divide the calamari mixture over the top of the lettuces.
Top with chopped avocado, and drizzle each salad with some of the lemon vinaigrette.
Serve immediately.
To make the Lemon Vinaigrette
Whisk all the ingredients together, seasoning to taste with salt and pepper.