Crudo is a dish consisting of raw seafood and other ingredients to highlight flavors. This crudo plate is simple to put together.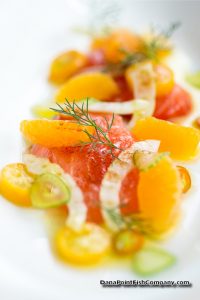 Print
Salmon Crudo with Kumquat and Fennel
Use as much fennel and kumquats as you want for the salad. Simply whisk the dressing together and drizzle over the top of the salad.
Ingredients
1 pound fresh wild salmon, sliced across the grain in very thin slices
4-5 kumquats, sliced crosswise
Fennel sprigs, and fennel bulb, thinly sliced, as much as needed for plate
2 oranges, segmented
Few slices of baby cucumber
1 sashimi pepper, thinly sliced crosswise
4 tablespoons extra virgin olive oil
1 1/2 tablespoons fresh squeezed lemon juice
Small pinch of paprika
Salt and pepper to taste
Instructions
Arrange salmon on a platter, with vegetables and fruit on top.
Whisk the olive oil and lemon juice together, and add in paprika, and salt and pepper to taste. Drizzle on the top.
Serve.